Bringing the Com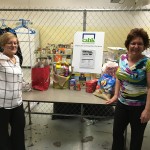 munity together, and providing nutrition and encouragement!
 During the month of April, Power of One Outreach Ministries with the help of their sponsor CSBK (Clifton Savings Bank), organized a food drive which provided kid friendly food for children during Spring Break. The food drive provided 3 days of food for over 20 families in our Clifton Schools.
It's exciting to see what a community of a few, can do, to bring hope and provision, to those who may be in a crisis or who are in need.

"I never know what the end result will be when planning these outreach projects," says Kim Castellano President of Power of One. "I do this by Faith and leave the rest up to the community of Clifton to join in and take action."
 Special thanks to CSBK (Clifton Savings Bank) staff and Community Liaison, Maria Kosmider who led the outreach along with the other bank branches in Clifton. Maria's excitement in the project brought much encouragement to the organization and the school. Other organizations have also collected among their members such as the Vision Pioneers led by Chris Liszner of Clifton, who collected peanut butter and jelly. Along with the Red Hat Angels a Relay for Life of Clifton team during their breakfast fundraiser, guests were encouraged to bring a food item on the list to the event.
Once the food is collected, the preparation for organizing the care packages equally in bags, which were supplied by CS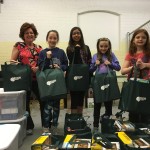 BK (Clifton Savings Bank), can take many volunteers who can work quickly and efficiently.  The Girl Scout Junior Troop #95322 led by Kristy Wellins, is always eager to help in this area and will be earning a badge this year, with all their volunteer efforts in our Back2School Outreach.
 The Back2School Outreach would like to thank their supporters for helping achieve their goals on all their projects. They look forward to seeing the needs of others being met through the help of the community around them.
 There are more ways to help coming up!
The Back2School BackPack Outreach will run during the summer months July and August.  Power of One is in need of more drop off locations in the City of Clifton and/or surrounding area to help collect school supplies during the summer months. Your location/organization will be added as a supporter of the Back2School BackPack Outreach.
You can contact Kim to be added to the collections list.  
 If you would like to organize a food drive, please contact Kim Castellano at 201-328-2326. To be added to the email notification list when a crisis arises or an upcoming event, send your name and email to kim@powerofoneccom.org